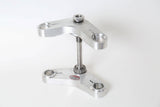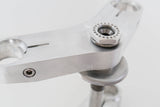 Jimihen Racing
Forum
Aluminum stem Kit
High quality aluminum stem kit.

Can be attached to Norton's featherette frame or commando frame. All bearings necessary for installation are included.

Fork size is 35 mm and is ideal for classic lace. This is a racing team in the racing teamCeriani replicaI join the race with the front fork.


Fork diameter

Folk pitch: 7-3 / 8

Offset:

2-1/4

Made in England
Free shipping
※ 表示価格は税抜き