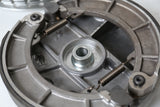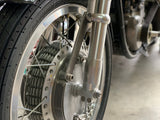 Kanrin
Kanrin 4LS DRUM BRAKE
Perception Lindrum brakes
It is the full-scale racing type drum brake which employed the sand cast that the casting method is unsuitable for mass production reduction in cost to material using AC4C-T6.
Even Japanese classic races has large number of winning prize results.
The axle system is 17mm.

The spoke hall is 36H.
The rim spoke is not attached to this product.

A torr clod, the wire are not attached.

This product cannot accept returned goods, exchange because of the special part for exclusive use of the competition.
Specifically, look at blog.

News of the perception phosphorus arrival
※ Free shipping
※ The sticker price goes without tax