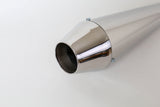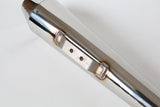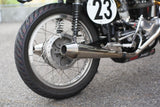 FLAKES
STANLESS MEGAPHONE SILENCER
Stainless steel megaphone silencer
Stainless steel megaphone silencer.

Very high quality, well-established in performance and sound quality, it is often used in custom motorcycles. The diameter of the joint with the exhaust pipe is45 piesis.

Our racing team uses two in the Norton Twin. It is often used for classic custom and SR custom.

The price is for one bottle.
※ free shipping
*Prices do not include tax