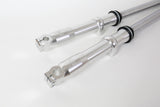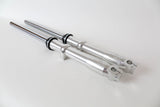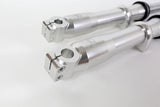 CERIANI TYPE
CERIANI GP35 REPLICA STANDARD
Ceriani GP35 Replica Standard Type
It is a replica of the Celiani GP35, a classic fork item.

It is a product produced by a Hungarian manufacturer and is of extremely high precision and quality. Redesigned with modern technology rather than a faithful replica, the contents are modern and look classic.
Fork diameterIs35 mm、Free lengthPerfect for classic720 mmWe have 680mm/800mm production, so we can order it if you have the time.
This product is an orthodox type that does not have functions such as standard attenuation adjustment.
Spring rateIs30/40lbsYou can choose from either. Our racing team uses a softer 30lbs for the feather bed frame. Also 50lbs can be ordered if you have time.
We will ship it in a dedicated wooden box, but please be aware that it is for shipping only and may be damaged or damaged in many cases from overseas.
※ free shipping
*Prices do not include tax