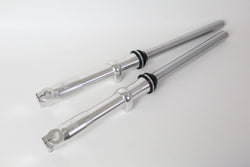 CERIANI TYPE
CERIANI GP38 REPLICA STANDARD
Ceriani GP38 Replica Standard Type
It is a replica of the Seriani GP fork, a classic fork of the past.

It is a product produced by a Hungarian manufacturer and is of extremely high precision and quality. Redesigned with modern technology rather than a faithful replica, the contents are modern and look classic.
Fork diameterIs38 mm、Free lengthIs800 mm、Spring rateIs50lbsis.
This product is an orthodox type that does not have functions such as standard attenuation adjustment.
We will ship it in a dedicated wooden box, but please be aware that it is for shipping only and may be damaged or damaged in many cases from overseas.
We will provide it at the disposal price because it arrived due to the wrong order.
*The photo is of GP35, but the appearance is almost the same.

※ free shipping
*Prices do not include tax